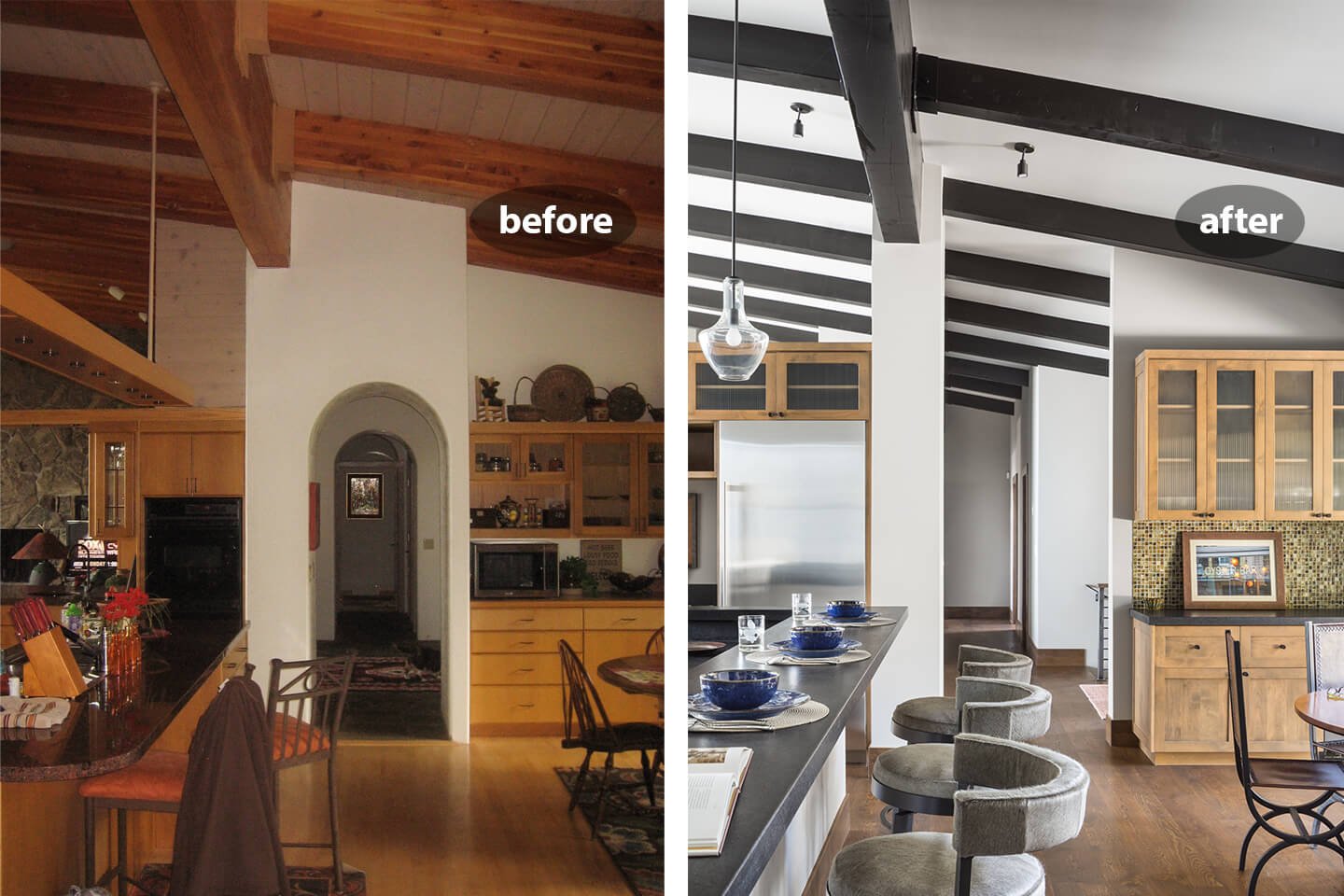 INDIAN PAINTBRUSH RESIDENCE
From a dated mountain-top home to a contemporary one
Teton County, Wyoming  •  6,000 sq. ft.
Design Team: Kurt Dubbe, AIA; Dan Amborski; Bryan Gleason
Interior Design Team: Forsythe & Brown
In a resort area where land costs are very high, exploring options for "fixer-uppers" that have a compelling location, can help an owner realize their dream property. The owners of this mountain-top home saw beyond the existing conditions and were looking for creative solutions to improve the exterior appearance and impart a more contemporary aesthetic onto and within a very dated 1970's residence. They wanted to keep as much of the existing structure as possible, focus on renovating the main floor, improve the views they had of the valley and create new outdoor space.  As the project evolved, it became a whole-house renovation with the design of the guest quarters and downstairs area.
From the first few minutes visiting the site, it became clear that the driving design factor would be to replace six tall narrow windows in the main living space to create a broader, uninterrupted panorama that could be enjoyed as soon as you step through the front door. The other major design focus was to put a more contemporary aesthetic to the existing firebox which was redone with steel plates, resin panels and a suspended steel hearth. While the floor plan remained essentially the same, the spaces were gutted and completely renovated. Thermal performance was added to the structure by adding foam insulation and a new ceiling while keeping the original beams. These were treated with a dark solid stain, which added dimension and contrast to the interior spaces, except for the master bedroom where they are painted white for an intimate, quiet and simple ambiance. Walnut flooring imparts richness while the light colored walls make the rooms feel large. The new interior feels cohesive and restful with abundant natural light connecting the owners to the outside environment.
On the exterior, the gravel ballast roof system was removed and replaced with a standing seam metal roof. A new stone wall was created on the front of the house which provides privacy for a new covered outdoor living area with a butterfly roof to prevent water dripping onto the patio. The renovation completely transformed this home from a dark and dated structure to a modern, comfortable and inviting home.